Icom MA-510TR AIS Class B
Icom MA-510TR Class B AIS Transponder with GPS navigation function and NMEA 2000™-connectivity and receives both AIS Class A and  AIS Class B signals. With both A and B AIS signals, the range of detection increases safety. Leisure, fishing or cruising vessels can stay safe and informed on the open sea with this feature-packed transponder.
| | |
| --- | --- |
| Output Power: | 2W |
| NMEA: | NMEA 2000™, 0183/-HS Connectivity |
| Waterproof Rating: | IPX7 |
Large Color Display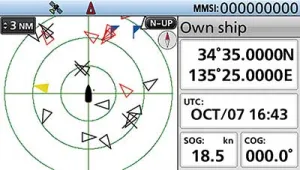 Icom MA-510TR comes with a 4.3″ color TFT LCD. The wide-viewing angle screen provides clear navigation details such as potential collision vessels marked as red, and registered friends marked as yellow. All vessels that are within 6NM CPA and 60 minutes TCPA from a vessel are put into a respective danger or friend list. The day-mode function allows visibility in direct sunlight. Night-mode provides optimal viewing brightness for comfortable operation.
Simplified GPS Navigation Function
The built-in GPS Navigation function guides users to waypoints or AIS targets. Assign up to 100 destinations or fishing spots.
Silent Mode
Operate securely and privately with the silent mode function. Switch off the AIS transmitter to temporarily stop sending out position location. Other AIS signal reports art still received when silent mode is on. Keep fishing spots privately from other vessels by utilizing silent mode.
Safety Features
Collision Alarm Function
When vessels come into the CPA or TCPA range, the vessel's icon blinks and a warning sound is emitted on the plotter display (when connected to external audio equipment).
Anchor Watch Alarm
An alarm is set off when the vessel is drifting when anchored.
Man Overboard
When users receive a Man Overboard (MOB) signal, the MA-510TR can set the MOB as a destination.
NMEA Connectivity
Icom  MA-510TR can connect to both NMEA 2000™ and NMEA 0183/-HS. Connect to a NMEA 2000™ network such as an external plotter, marine radar and VHF radios. With NMEA 0183/-HS, connect to a transceiver, plotter device, marine radar, external GPS receiver and a switch button.
Other Features
Individual DSC Call available with a compatible Icom VHF with an accessory cable
USB connectivity
Multi-lingual user interface
12V and 24V compatible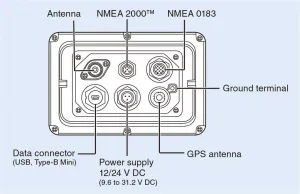 Icom IC-MA510TR Specifications
General
Frequency coverage
161.500 MHz to 162.025 MHz
Type of emission
16K0GXW (GMSK)
Antenna impedence
50Ω nominal
Intermediate Frequency
CH-A
CH-B
1st: 21.700 MHz, 2nd: 450 kHz
1st: 30.150 MHz, 2nd: 450 kHz
Operating temperature range
-20°C to +60°C; -4°F to +140°F
Power supply requirement
Negative ground:
12V or 24V DC nominal
(9.6V to 31.2V)
Current drain (at 12V DC)
Tx:
Rx:
1.5A
0.7A
Dimensions (approximate)
(Projections not included)
166.2 (W) × 110.2 (H) × 92.5 (D) mm,
6.5 (W) × 4.3 (H) × 3.6 (D) inches
Weight (approximate)
700g,
1.5 lbs
Transmitter
Output power
2W
Modulation
16K0GXW (GMSK)
Conducted spurious emission
Less than –36 dBm (9 kHz–1 GHz)
Less than –30 dBm (1 GHz–4 GHz)
Receiver (AIS)
Sensitivity
Less than –110 dBm
Adjacent channel selectivity
More than –31 dBm
Spurious response
More than –31 dBm
Intermodulation
More than –36 dBm
Conducted spurious emissions
Less than –57 dBm (9 kHz–1 GHz)
Less than –47 dBm (1 GHz–4 GHz)
Blocking
More than –15 dBm (±0.5 MHz – ±5 MHz)
More than –23 dBm (±5 MHz – ±10 MHz)
Co-channel
More than -111 dBM
Receiver (DSC)
Frequency coverage
156.525 MHz
Type of emission
16K0G2B
Sensitivity
Less than –110 dBm
Adjacent channel selectivity
More than 70 dBm
Spurious response
More than -34 dBm
Intermodulation
More than -39 dBm
Blocking
More than -20 dBm
GPS Antenna
Received frequency
1575.42 MHz
Acquisition
72 ch (maximum)
Differential satellites
WAAS, EGNOS, MSAS, GAGAN
Dimensions (approximate)
96.2 × 225 (H) mm, 3.8 × 8.9 (H) inches
Weight (approximate)
700g,
1.5 lbs (including cable and mounting bracket)
Cable length (approximate)
10m,
32.8 ft
Data Interface
USB
(Type-B Mini)
GGA, GNS, GLL, GSA, GSV, RMC, VTG, VDM, VDO, ACA, ACS, ALR, TXT
NMEA 2000™
Input

---

Output

059392 / 904, 060160 / 416 / 928, 065240, 126208 / 996, 129026 / 029 / 545

---

059392 / 904, 060416 / 928, 126208 / 464 / 993 / 996 / 998, 129026 / 029 / 038 / 039 / 040 / 041 / 539 / 540 / 545 / 792 / 793 / 794 / 797 / 798 / 801 / 802 / 803 / 805 / 806 / 807 / 809 / 810 / 811

NMEA 0183
NMEA
Input/Output

---

External
GPS Input

---

AIS Output

4800–38400 bps Input/Output, sentence format
(Output: GGA, GNS, GLL, GSA*1, GSV*1, RMC, VTG, GBS, DTM, DSC)

---

4800–38400 bps Input, sentence format
(GGA, GNS, GLL, RMC, VTG, GBS*2, DTM)

---

38400 bps Output, sentence format
(VDM, VDO, ACA, ACS, ALR, TXT)
*1 Only 38400 bps.
*2 When a received GPS signal does not include a GBS sentence, the transponder will not receive the signal from the external GPS receiver
Supplied Accessories
GPS antenna
DC power cable
Mounting bracket kit
Accessory connector