Icom IC-7700
Icom IC-7700 110dB Dynamic Range and +40dBm 3rd Order Intercept Point (IP3)
The IP3 performance of a radio can be improved by sacrificing sensitivity, but Icom considers this a poor choice. To achieve REAL high-performance, Icom reviewed all of the analog receiver circuitry. Icom IC-7700 employs mechanical relay BPF switching, a digitally tuned pre-selector, and three Hi-spec 1st IF filters (roofing filter) in a Dynamic range characteristics (in 14MHz band) clean and simple double-conversion superheterodyne design. By balancing the analog and DSP functions, Icom IC-7700 provides superior sensitivity simultaneously with a superb dynamic range of 110dB, and +40 dBm IP3 (even in USB mode with 2.4 kHz filter bandwidth)..
Better Than +110dBm 2nd Order Intercept Point (IP2)
An IP2 point of more than +110 dBm* means the 2nd order distortion from strong broadcast stations will be completely eliminated. The endless pursuit of leading analog circuit engineering makes it possible to achieve this leading edge level of performance.
* Measurements were made using custom equipment, due to the limits of normal signal generators (SG) and duplexers to +85 dBm. The IP2 figure is a typical value.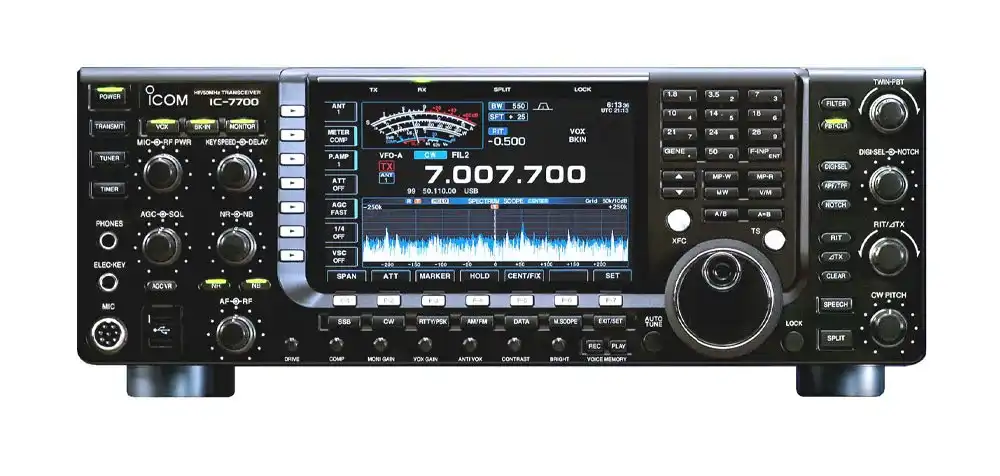 Double Conversion Superheterodyne System
While multiple IF stages can become a source of distortion products and spurious responses, Icom IC-7700 utilizes Icom's original image-rejection mixers in a simple double conversion superheterodyne. This reduces distortion and produces a much cleaner audio signal compared to triple or quadruple superheterodyne receivers.
High Specification Inband IMD
In-band IMD (Intermodulation Distortion) creates undesired spurious signals as a consequence of non-linear processing of multiple signals. All (2nd, 3rd or even higher) orders of IMD performance are superior in Icom IC-7700. The improvement will be especially evident in CW mode. You'll notice the difference as you copy weak signals without internal distortion or noise.
Inband IMD Characteristics
Band Pass Filter
While some may lead you to believe that coils and capacitors are all created equal, at Icom we know design excellence. Rather than using switching diodes that can introduce distortion, the IC-7700 design utilizes high-grade mechanical relays along with large capacitors and toroidal coils; resistant to magnetic saturation, providing superior linearity, and greatly reducing distortion.
DIGI-SEL (Digital Pre-Selector)
The DIGI-SEL (digital pre-selector) is a very narrow, user adjustable, pass band filter designed to automatically track the operating frequency, attenuating interference from out-of-band signals. While the pre-selector's pass-band remains centered on the operating frequency, on the fly adjustments are possible via front panel controls. The DIGI-SEL is especially useful for multi-transmitter operation and near strong broadcast stations by reducing the 2nd, 3rd, and even higher order IMD components from other stations.
Pre-Amplifiers
The Icom IC-7700 has a total of 4 pre-amplifiers, two for the HF bands and two for the 50MHz band. The purpose of pre-amplifiers is to improve receiver sensitivity for the pursuit of higher gain and a better noise figure. Icom IC-7700 employs a noiseless feedback design with push-pull amplifiers. Using feedback transformers, the pre-amplifiers provide a high IP3 while keeping a low noise figure.
1st Mixer
The 1st mixer stage is driven with a signal from the high-drive Local Oscillator with excellent C/N. A 16V p-p of high-level LO signal is applied to the mixer to improve intermodulation characteristics while avoiding a parasitic
Icom IC-7700 Specifications
General
Frequency coverage*1
U.S.A. Version


Rx




Tx

Europe, UK Version


Rx




Tx

0.030– 60.000 MHz*2
1.800– 1.999 MHz 3.500– 3.999 MHz
5.3305, 5.3465, 5.3665, 5.3715, 5.4035 MHz*3
7.000– 7.300 MHz 10.100–10.150 MHz
14.000– 14.350 MHz 18.068–18.168 MHz
21.000– 21.450 MHz 24.890–24.990 MHz
28.000– 29.700 MHz 50.000–54.000 MHz0.030– 60.000 MHz*2
1.810– 1.999 MHz 3.500– 3.800 MHz
7.000– 7.100 MHz (Europe version)
7.000– 7.200 MHz (UK version)
10.100– 10.150 MHz 14.000–14.350 MHz
18.068– 18.168 MHz 21.000–21.450 MHz
24.890– 24.990 MHz 28.000–29.700 MHz
50.000– 52.000 MHz

Mode
USB, LSB, CW, RTTY, PSK31, AM, FM
Number of channels
101 (99 regular, 2 scan edges)
Antenna impedance
50Ω unbalanced (Tuner off)
Antenna connector
SO-239×4 and BNC×1
Power supply requirement
85–265V AC
Temperature range
0°C to +50°C; +32°F to +122°F
Frequency stability
Less than ±0.05ppm
(0°C to +50°C, after warm up)
Frequency resolution
1 Hz (minimum)
Power consumption
Tx Max. power

| | | |
| --- | --- | --- |
| Tx | Max. power | 800VA |
| Rx | Stand-by | 200VA (typ.) |
| | Max. audio | 210VA (typ.) |

Dimensions (W×H×D)
(projections not included)
425 × 149 × 437 mm;
1623⁄32 × 57⁄8×177⁄32 in
Weight (approx.)
22.5kg; 49.6lb
Transmitter
Output power
SSB, CW, RTTY, PSK31, FM
AM
(continuously adjustable)
5–200W
5–50W
Modulation system
SSB
AM
FM
DPSN modulation
Digital low power modulation
Digital phase modulation
Spurious emission
HarmonicsUnwanted emissions
(Except harmonics)
More than 60dB (HF bands)
More than 70dB (50 MHz band)
More than 50dB (HF bands)
More than 66dB (50 MHz band)
Carrier suppression
More than 63dB
Unwanted sideband suppression
More than 80dB
TX variable range
±9.999 kHz
Microphone impedance
600Ω (8-pin connector)
Receiver
Receive system
Double conversion super-heterodyne system
Intermediate frequencies
1st
2nd
64.455 MHz
36 kHz
Sensitivity (typical)
SSB, CW, RTTY
(BW: 2.4 kHz at 10dB S/N)AM (BW: 6k Hz at 10dB S/N)FM (BW: 15 kHz at 12dB SINAD)
0.1–1.799 MHz 0.5μV (Pre-amp 1 ON)
1.8–29.999 MHz 0.16μV (Pre-amp 1 ON)
50.0–54.0 MHz 0.13μV (Pre-amp 2 ON)
0.1–1.799 MHz 6.3μV (Pre-amp 1 ON)
1.8–29.999 MHz 2μV (Pre-amp 1 ON)
50.0–54.0 MHz 1μV (Pre-amp 2 ON)
28–29.990 MHz 0.5μV (Pre-amp 1 ON)
50.0–54.0 MHz 0.32μV (Pre-amp 2 ON)
Squelch sensitivity (Pre-amp: OFF)
SSB, CW, RTTY, PSK31
FM
Less than 5.6μV
Less than 1μV
Selectivity (representative value)
SSB, RTTY (BW: 2.4 kHz)CW (BW: 500 Hz)AM (BW: 6 kHz)FM (BW: 15 kHz)
More than 2.4 kHz/–3dB
Less than 3.6 kHz/–60dB
More than 500 Hz/–3dB
Less than 700 Hz/–60dB
More than 6.0 kHz/–3dB
Less than 15.0 kHz/–60dB
More than 12.0 kHz/–6dB
Less than 20.0 kHz/–60dB
Spurious and image rejection ratio
More than 70dB
Audio output power
More than 2.6W at 10% distortion with an 8Ω load
RIT variable range
±9.999 kHz
PHONES connector
3-conductor 6.35 (d) mm (1⁄4″)
EXT SP connector
2-conductor 3.5 (d) mm (1⁄8″) /8Ω
The LCD display may have cosmetic imperfections that appear as small or dark spots. This is not a malfunction or defect, but a normal characteristic of LCD displays.
All stated specifications are subject to change without notice or obligation.